Receiving out patient care
Open
MONDAY through FRIDAY
Reception
First Visit                        8:00AM – 11:30AM
Revisit (No reservation)   7:30AM – 11:30AM
(7:30AM – 8:00AM  Automatic return reception machine only )
Hour
8:30AM –
Closed
SATURDAY , SUNDAY ,  HOLIDAYS AND The year-end and New Year holidays(December 29 - January 3)
Reception
The first visit and revisit with the referral letter "B referral reception".
The first time visit without the referral letter "C first visit, revisit reception".
The revisit without the hospital card "the C first visit, revisit reception".
The revisit with the hospital card "return visit reception machine".
After reception, please come  to department waiting of consultation with the output visit information card in the file.
When there is inspection before medical examination, please finish inspection before a medical examination.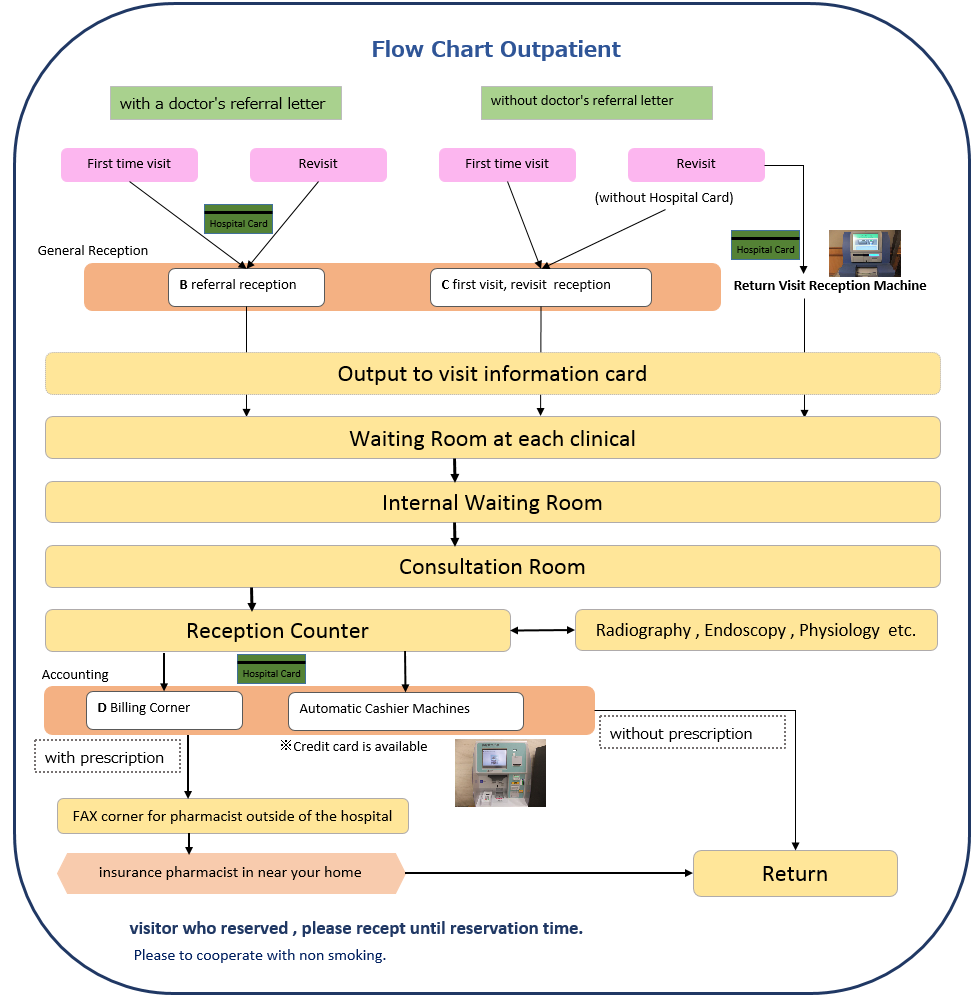 After the medical examination
Please submit visit information card to a clinical receptionist.
Paying your medical bill
After 17:00, you can pay your bill at the Emergency(near the 1F north side after-hours entrance).
In addition, a credit card is available to pay.

Pharmacy and next reservation
And prescription number ticket receipt, comes with a reserved ticket, which is displayed next examination reservation.
Those who have been displayed with out-of-hospital prescription that I got in the department, we have the insurance pharmacy of the attendant, etc., please return to receive the medicine.
In addition, the waiting time in out-of-hospital pharmacy if FAX a prescription in advance on the first floor of the out-of-hospital prescription FAX corner will be shorter.
Emergency and after hours
In an emergency case please come to the emergency center.
We have established a medical care system of 24 hours, 365 days a year.
To the emergency center, please use the After-hours Entrance of the hospital north.
By Phone
0776-54-5151